Sacred Valley of the Incas

topographic map

Click on the map to display elevation.
About this map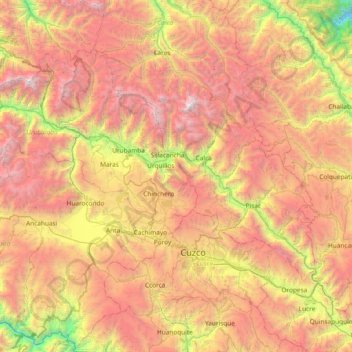 Minimum elevation: 1,945 m
Maximum elevation: 5,686 m
The valley, running generally west to east, is understood to include everything along the Urubamba River between the town and Inca ruins at Písac and Machu Picchu, 100 kilometres (62 mi) distant. The Sacred Valley has elevations above sea level along the river ranging from 3,000 metres (9,800 ft) at Pisac to 2,050 metres (6,730 ft) at the Urubamba River below the citadel of Machu Picchu. On both sides of the river, the mountains rise to much higher elevations, especially to the south where two prominent mountains overlook the valley: Sahuasiray, 5,818 metres (19,088 ft) and Veronica, 5,893 metres (19,334 ft) in elevation. The intensely cultivated valley floor is about 1 kilometre (0.62 mi) wide on average. Side valleys and agricultural terraces (andenes) expand the cultivatable area.
Other topographic maps
Click on a map to view its topography, its elevation and its terrain.