Asheville

topographic map

Click on the map to display elevation.
About this map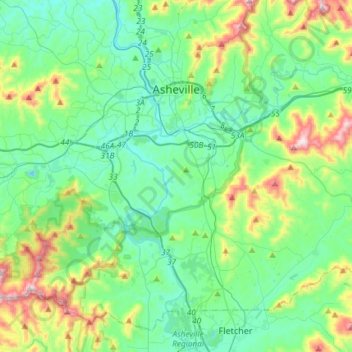 Minimum elevation: 578 m
Maximum elevation: 1,209 m
Asheville features a climate that borders between a humid subtropical climate (Köppen Cfa/Trewartha Do) and an oceanic climate (Koppen Cfb) with noticeably cooler temperatures than the rest of the Piedmont region of the Southeast due to the higher elevation; it is part of USDA Hardiness zone 7a. The area's summers in particular, though warm, are not as hot as summers in cities farther east in the state, as the July daily average temperature is 73.8 °F (23.2 °C) and there is an average of only 9.4 afternoons with 90 °F (32.2 °C)+ highs annually; The last time a calendar year passed without a single 90 °F (32.2 °C) reading was as recent as 2009. Moreover, warm mornings where the low remains at or above 70 °F or 21.1 °C are much less common than 90 °F or 32.2 °C afternoons. Winters are cool, with a January daily average of 37.1 °F (2.8 °C) and highs remaining at or below freezing on 5.5 afternoons.