Madison

topographic map

Click on the map to display elevation.
About this map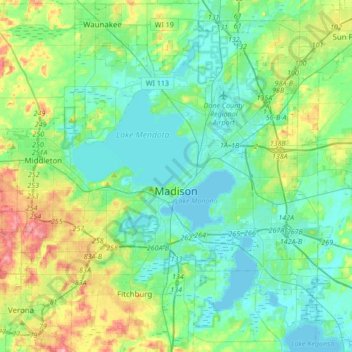 Minimum elevation: 255 m
Maximum elevation: 365 m
The city is sometimes described as The City of Four Lakes, comprising the four successive lakes of the Yahara River: Lake Mendota ("Fourth Lake"), Lake Monona ("Third Lake"), Lake Waubesa ("Second Lake") and Lake Kegonsa ("First Lake"), although Waubesa and Kegonsa are not actually in Madison, but just south of it. A fifth smaller lake, Lake Wingra, is within the city as well; it is connected to the Yahara River chain by Wingra Creek. The Yahara flows into the Rock River, which flows into the Mississippi River. Downtown Madison is located on an isthmus between Lakes Mendota and Monona. The city's trademark of "Lake, City, Lake" reflects this geography. The city's lowest elevation is the intersection of Regas Road and Corporate Drive on the east side, at 836.9 ft (255.1 m). The highest elevation is located along Pleasant View Road on the far west side of the city, atop a portion of a terminal moraine of the Green Bay Lobe of the Wisconsin glaciation, at 1,190 ft (360 m).