Grand Rapids

topographic map

Click on the map to display elevation.
About this map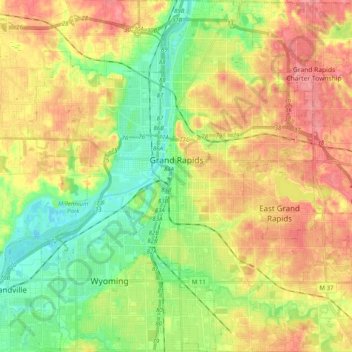 Minimum elevation: 178 m
Maximum elevation: 257 m
Grand Rapids developed on the banks of the Grand River, where there was once a set of rapids, at an altitude of 610 feet (186 m) above sea level. Ships could navigate on the river up to this fall line, stopping because of the rapids. The river valley is flat and narrow, surrounded by steep hills and bluffs. The terrain becomes more rolling hills away from the river. The countryside surrounding the metropolitan area consists of mixed forest and farmland, with large areas of orchards to the northwest. It is approximately 25 mi (40 km) east of Lake Michigan. The state capital of Lansing lies about 70 mi (110 km) to the east-by-southeast, and Kalamazoo is about 50 mi (80 km) to the south.