Ecuador

topographic map

Click on the map to display elevation.
About this map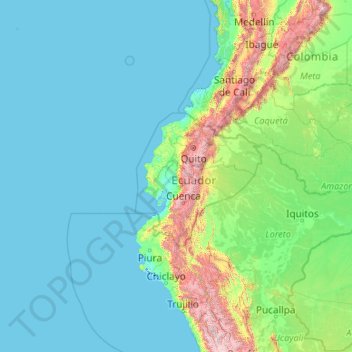 Minimum elevation: -3 m
Maximum elevation: 5,762 m
Almost all of the rivers in Ecuador form in the Sierra region and flow east toward the Amazon River or west toward the Pacific Ocean. The rivers rise from snowmelt at the edges of the snowcapped peaks or from the abundant precipitation that falls at higher elevations. In the Sierra region, the streams and rivers are narrow and flow rapidly over precipitous slopes. Rivers may slow and widen as they cross the hoyas yet become rapid again as they flow from the heights of the Andes to the lower elevations of the other regions. The highland rivers broaden as they enter the more level areas of the Costa and the Oriente.
Other topographic maps
Click on a map to view its topography, its elevation and its terrain.

Papallacta, Quijos, Napo, Ecuador
Average elevation: 3,809 m