Colombia

topographic map

Click on the map to display elevation.
About this map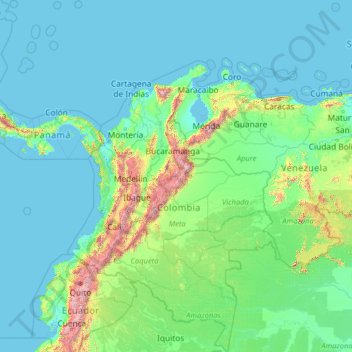 Minimum elevation: -2 m
Maximum elevation: 5,809 m
Mountain climate is one of the unique features of the Andes and other high altitude reliefs where climate is determined by elevation. Below 1,000 meters (3,281 ft) in elevation is the warm altitudinal zone, where temperatures are above 24 °C (75.2 °F). About 82.5% of the country's total area lies in the warm altitudinal zone. The temperate climate altitudinal zone located between 1,001 and 2,000 meters (3,284 and 6,562 ft) is characterized for presenting an average temperature ranging between 17 and 24 °C (62.6 and 75.2 °F). The cold climate is present between 2,001 and 3,000 meters (6,565 and 9,843 ft) and the temperatures vary between 12 and 17 °C (53.6 and 62.6 °F). Beyond lies the alpine conditions of the forested zone and then the treeless grasslands of the páramos. Above 4,000 meters (13,123 ft), where temperatures are below freezing, the climate is glacial, a zone of permanent snow and ice.
Other topographic maps
Click on a map to view its topography, its elevation and its terrain.