Cyprus

topographic map

Click on the map to display elevation.
About this map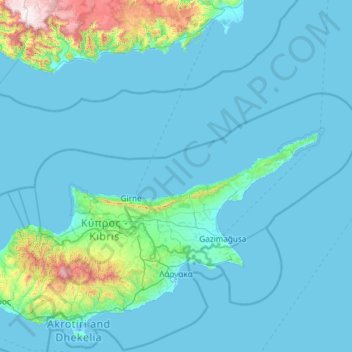 Minimum elevation: -6 m
Maximum elevation: 2,316 m
The coastline of Northern Cyprus features two bays: the Morphou Bay and the Famagusta Bay, and there are four capes: Cape Apostolos Andreas, Cape Kormakitis, Cape Zeytin and Cape Kasa, with Cape Apostolos Andreas being the endpoint of the Karpaz Peninsula. The narrow Kyrenia mountain range lies along the northern coastline, and the highest point in Northern Cyprus, Mount Selvili, lies in this mountain range with an altitude of 1,024 metres (3,360 ft). The Mesaoria plain, extending from the Güzelyurt district to the eastern coastline is another defining landscape. The Mesaoria plains consist of plain fields and small hills, and is crossed by several seasonal streams. The eastern part of the plain is used for dry agriculture, such as the cultivation of wheat and barley, and are therefore predominantly green in the winter and spring, while it turns yellow and brown in the summer.
Other topographic maps
Click on a map to view its topography, its elevation and its terrain.